Published January 3, 2018
The Summit Provides Clarity & Freedom for Pastor with a Grander Vision for the Philippines
As a pastor and church planter in the Philippines, Pastor Bong has a vision to see his country transformed through leaders who have been transformed. The Global Leadership Summit is key in making this a reality. Pastor Bong has had two revelations while attending the GLS. He leads the efforts to bring the GLS to the southern part of Manila, because he wants others to experience the same encouragement he has experienced.
These are the two powerful ways God spoke to Pastor Bong through the GLS:
Clarity through pain
"I don't want to miss a year of the GLS because the Lord is always using it to deal with some area of my life," says Bong. "Recently I realized that in order to be fruitful, often you have to go through something painful. There are disappointments and experiences you go through where you realize it is all part of your formation. It's not alien to what God desires for you. It's not something you should try to get out of but go through.
"When something difficult is going on in your life, you can get confused, but the Summit helps me to get clarity. I can see God at work through these difficult experiences. God has been so kind to reveal these things while I'm at the Summit. The Summit has always helped me see the right perspective."
"Our disappointments and experiences are part of our formation—and transformation. It's not something to avoid, but something to go through. It's not alien to God. Going through something painful can lead to being fruitful.
"When going through something difficult, I find I can get confused. God has provided moments of clarity to me when I'm at the Summit. The Summit has always helped me see the right perspective."
Freedom to let go
"Because of the Summit, I have become less controlling," says Bong. "I realized I need to empower people. I need to trust them, and entrust the ministry to people. I need to believe in them, encourage them, let them make mistakes and let them figure out things. I need to not be afraid that something might go wrong. When I'm away, the church is ok! The church is led by leaders of all kinds, and I feel like I am more relaxed. I've learned to release people.
"We have teams right now engaging with the community, reaching out to kids, doing great work in our community, trying to make a difference, and helping the poor. The exciting part is I am not the one being used by God to do those things; I am more of a catalyst—someone who inspires and empowers people to do it. There is freedom and joy in empowering others."
Pastor Bong's vision for the Philippines
Pastor Bong's vision for the Philippines includes sharing a new perspective on leadership—leadership that serves the community rather than tries to gain power over it.
"In my country, we are going through something very difficult right now," says Bong. "For many years, our country has had an unhealthy view of leadership. It's based more on popularity. The view is not about solving problems or dealing with real issues, it's more about making impressions.
"My vision is to see better leaders rise up. What that means for me personally is to raise up church planters. I would like to raise up at least 10 church planters per year, train them and teach them everything I know and send them out to plant churches. I hope this effort can make a dent in bringing about significant change and transformation in my country."
Thank you for supporting the dreams of leaders like Pastor Bong
On behalf of my country, The Philippines, we would like to thank all of you who have been supporting the GLS, especially the GLS in our country. It is very helpful and important. My prayer is that you would continue to support us, and also partner and pray with us. I believe when the leaders of our country become better, our country can change. The Philippines can change when leaders become better. Thank you.—Jesusito Bong Baylon, GLS leader, The Philippines
We welcome and encourage comments on this site. There may be some instances where comments will need to be edited or removed, such as:
Comments deemed to be spam or solely promotional in nature
Comments not relevant to the topic
Comments containing profane, offensive, or abusive language
Anonymous comments
If you have any questions on the commenting policy, please let us know at heretoserve@globalleadership.org
Equip, encourage & inspire global leaders with a gift today
When you give to the Global Leadership Development Fund, your gift inspires and equips Christian leaders, facilitating transformation in some of the world's most challenging environments.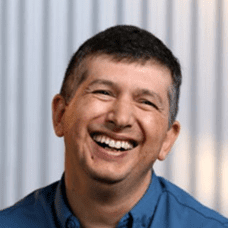 "Without your heart for giving, we could not have had the GLS in many countries like Bolivia, Ecuador, Cuba, Chile, Peru and others in the rest of Latin America."
Carlos Arroyo, South America