Published May 8, 2019
The Power of a Nickel Transforms Lives of Liberian Children
Amos Turgor is bold in believing that by collecting 5 Liberian Dollars (approximately $0.03 US) from everyone he meets, he can improve education in Liberia.
He founded an organization called The Power of a Nickel Liberia with a vision to ensure that the children in the most rural parts of Liberia have access to quality education. Their mission is to build 15 modern primary and secondary schools with a teacher's housing unit, staff quarters, mini clinic, a multi-purpose hall and nursing units within the 15 counties of Liberia.
We are so inspired by the tenacity of this amazing, hard-working, selfless young man. This year the local team in Liberia provided 15 scholarships for him and his team to attend The Global Leadership Summit. Thank you for your support for leaders like Amos!
Amos Turgor shares his inspiring vision and story:
At Nickel Liberia we intended to carry on all of our major projects in the villages. It wasn't easy for us because there's no access to roads that work. We walked three hours. Then we saw the village. Some of my colleagues were going to cry for the little kids, because they were seeing them naked, barefoot and going to farm instead of going to school. We saw girls of 12 and 13 pregnant. And we said, why is this happening here? Is this not part of Liberia?
Our mission is to make sure that the people in the rural parts of Liberia have access to quality and equal education.
We asked the town chief and the partner chiefs, what can we do for your people? And they said they needed education for their children. We said, "Ok!"
The chiefs provided 10 acres of land for Nickel Liberia to begin a school project. After a few months, we went back there with 200 bags of cement. It took two hours to and from with the cement on our heads to reach there. We took more than one month to haul the cement. We started building a 10-kilometer road, and now we have gone in 4 kilometers so far. And now we have 7,000 bricks on the project site.
Our mission is to make sure that the people in the rural parts of Liberia have access to quality and equal education.
Our first project is growing in Gran Bassa county with 10 buildings for one school. After Gran Bassa, we will move to another county and so on until we are in the 15 counties of Liberia.
We have a system for raising funds. We have cash boxes at schools, churches and business centers. People drop in a nickel each day. Our colleagues collect the money and we save it to invest in our project. When we say nickel, we are talking about 5 Liberian dollars. There's power in a nickel.
Our rural project also includes forested areas. We thought, why can't we transform this log and process it into planks and give it as seating to the children who are sitting on stones at school? We decided to start a project called "from stone to chair." And we were able to donate more than 100 chairs to this new public school. This year we want to provide 1000 chairs to children in three counties.
If I'm asking for change, I should be the first man to begin change.
If every Liberian would just give 5 Liberian dollars, we can make a difference. We can make a change.
The first time we attended The Global Leadership Summit was so amazing. We listened to speakers, and these guys explained their stories. It took many years for their persistence and thought to reach toward their vision. I got inspired by a young boy at The Global Leadership Summit who said Nickel has to do more! I said if this little boy knows we have to do more, then indeed, we have to do more!
This boy's voice always sounds in my ear—you have to do more, you have to do more! The second Summit we attended, we came across the vice president of Liberia. Her Excellency, Jewel Taylor, gave Nickel Liberia a contribution toward our vision. The Summit is doing a lot!
…there's something deep down that is always telling me, yes, you can do it.
If I'm asking for change, I should be the first man to begin change. If I'm asking for change in the education sector, I should be the one. I earn a very low income. We want to build 50 more primary schools and secondary schools within the 15 counties. One school, 10 buildings. People say you are out of your mind. So I said, "Yes, indeed, I'm a mad man!" There's something inside of me that I can't really explain in total. But there's something deep down that is always telling me, yes, you can do it. My courage has built up over time. I can make it. We can build it. We are fired up. We can do it!
We welcome and encourage comments on this site. There may be some instances where comments will need to be edited or removed, such as:
Comments deemed to be spam or solely promotional in nature
Comments not relevant to the topic
Comments containing profane, offensive, or abusive language
Anonymous comments
If you have any questions on the commenting policy, please let us know at heretoserve@globalleadership.org
Equip, encourage & inspire global leaders with a gift today
When you give to the Global Leadership Development Fund, your gift inspires and equips Christian leaders, facilitating transformation in some of the world's most challenging environments.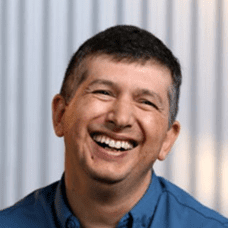 "Without your heart for giving, we could not have had the GLS in many countries like Bolivia, Ecuador, Cuba, Chile, Peru and others in the rest of Latin America."
Carlos Arroyo, South America