Published November 18, 2019
What I Didn't Know About the GLS Brought Me to Tears
A week before I delivered my talk at The Global Leadership Summit in 2015, my world changed. I had to write the eulogy of my sweet sister who died suddenly.
A week later, I stood on the GLS stage with my heart broken in pieces. At that moment, the last thing I wanted to do was stand on the stage and fulfill this God assignment and give a talk at the GLS.
But I didn't yet appreciate God's timing.
There was a leader in Pakistan who God wanted to say something to. Little did I know He wanted to use the message I gave that day.
I'd like to share a letter this pastor sent:
"As a pastor, watching my church die was really painful. I recently had a stroke, and my family was suffering due to my health. I was at the edge of giving up on God. I even tried suicide. I have been praying for the last two years, expecting God would do something supernatural in return for my prayers, and revive me. But nothing happened. I was at the edge of giving up on God.
In that moment, God did something supernatural in me. I came back changed.
Then I was given a brochure about the GLS. My travel and lodgings were sponsored for me, and that was a great help in my decision to attend. During Albert Tates's session, tears started rolling down my cheeks. I watched the entire session with blurred focus, because I was crying the whole time.
A pastor sitting beside me, who I didn't know, held my hand to comfort me. In that moment, God did something supernatural in me. I came back changed.
I came back to my church, and preached again that Sunday. After the service, a Muslim lady who had recently moved next door to my church, asked me to pray for her. After two days, she came back to our service and asked for prayer again. She was healed.
Before she left, she gave me an envelope that had the exact amount of money needed to run the church and provide salary to the church staff for a whole year! Praise God! She is a regular visitor to our service now and we are praying for her salvation. 
I look at myself and look at what God has done, and I can only say thanks to God for working in mysterious ways. And thank you to the GLS."
I'll be honest, as I read that letter for the first time, my first thought, as tears streamed down my face was, Wow, God is so amazing.
We have a good God who calls us to do hard things.
And then I laughed to myself and thought, After getting a letter like that, you'd think they'd invite me to speak again! Patrick Lencioni never saved anybody in Pakistan, and he's here every year! What is up with that?!
But then I had a deeper, more spiritual, Godly thought.
We have a good God who calls us to do hard things. It's humbling to know how God chooses to use talks given at the Summit to impact leaders around the world in ways we can never predict.
As we go forward, we are hopeful and prayerful of what God is doing and what God will do through the Summit.
We welcome and encourage comments on this site. There may be some instances where comments will need to be edited or removed, such as:
Comments deemed to be spam or solely promotional in nature
Comments not relevant to the topic
Comments containing profane, offensive, or abusive language
Anonymous comments
If you have any questions on the commenting policy, please let us know at heretoserve@globalleadership.org
Equip, encourage & inspire global leaders with a gift today
When you give to the Global Leadership Development Fund, your gift inspires and equips Christian leaders, facilitating transformation in some of the world's most challenging environments.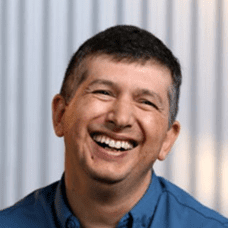 "Without your heart for giving, we could not have had the GLS in many countries like Bolivia, Ecuador, Cuba, Chile, Peru and others in the rest of Latin America."
Carlos Arroyo, South America