Published May 23, 2018
What Would Happen if Students Understood the Value of Their Influence?
Cole Charbonnier is a student at Casa Grande High School in northern California. He is active on his school's entrepreneurship club and hockey team, runs a small clothing brand with two friends, and pursues ways to serve his community when there is a need, like raising money for those in his community who were affected by the recent California wildfires. By attending The Global Leadership Summit, young Cole was inspired in his newfound leadership gift, and realized that leadership training has the potential to change the culture of his community and his school.
I started attending the Summit because I'm a dreamer. I'd always get ideas for projects that were almost impossible and I'd try to get my friends to join in. Around middle school, I discovered my passion for motivating people and my leadership quest began. I was at New Life Christian Fellowship when they announced they were going to host The Global Leadership Summit. I was excited to go, because I wanted to be ready for my transition into high school. What I've learned at the Summit has impacted and inspired me to take risks, create change, empower others, be patient, show compassion and choose my career.
Inspiring students' ideas to create change
I believe leadership lets individuals take charge of their own life and realize the difference they can make in others. I think high school students need to build their leadership skills so they understand their ability to create change. So many high schoolers have amazing ideas, but the second someone says they should take action, they make up a reason for why they can't. I think it's because they don't realize the power of their influence. I wish more students saw their full potential. I think a lot of them don't realize how much they're capable of and they doubt many of their ideas. I really hope to see more students daring to chase their dream, and I hope they see that they're needed to create a better world.
What would happen if more students understood the value of their influence?
If more students improved their leadership skills, I think they'd be willing to test their ideas. Rather than just giving into setbacks, they'd be able to persevere and take action for what they wanted. They'd be willing to sell their vision. They'd also have more confidence in their ideas and their image of themselves.
I believe high school would become a place of innovation and change. Students would take on initiatives they currently doubt. You'd have less tension on campus, because drama wouldn't be the focus. People would be willing to take the time to understand one another. I believe campuses would be happier places and you'd see more students genuinely interested in showing up to school. Good leadership makes environments much more positive, and that's what high schools need. More communication, compassion and patience for fellow students would make high school much less emotionally draining.
How the Summit inspired me to take a risk on my idea for my community
Back in October 2017, the North Bay fires struck our community. Many of my hockey teammates were forced to evacuate. I remember looking out at Petaluma and it had this apocalyptic feeling. When they gave our schools the week off, I knew I had to do something. God had put me in this situation to make a difference. So I got together with a couple of my friends and we decided to start a fundraiser. I asked some friends to run different social media platforms. Our goal was to provide accurate info about the fires and raise money by selling stickers. In three days, we raised $600.
One of my teammates lost his house. We ended up donating the money to his family, and a few other families I knew had lost their homes as well. In this amazing moment, God showed me the power of taking a risk and taking action when he calls you.
Why I will keep going to the Summit every year
The Summit inspired me to transform my leadership from something positional to something relationship based. That mentality has helped me influence people not just below me, but above me. It enables teams to work together and show each other they matter. The Summit also refreshes me right before the school year.
If I hadn't attended the Summit I don't think I would be as willing to take risks with my ideas. I wouldn't be nearly as interested in progressing myself, nor would I be confident in my ability to lead people; I'd just be drifting through life rather than taking action. The Summit is not a waste of time or boring! It gives new insight every year, getting you ready to take on challenges you might not have taken.
The Summit dares you to be great! Today we need great leaders, so take a risk and go to the Summit. Your vision is possible and the world is counting on you. Let the Summit help prepare you for your journey!
We welcome and encourage comments on this site. There may be some instances where comments will need to be edited or removed, such as:
Comments deemed to be spam or solely promotional in nature
Comments not relevant to the topic
Comments containing profane, offensive, or abusive language
Anonymous comments
If you have any questions on the commenting policy, please let us know at heretoserve@globalleadership.org
Equip, encourage & inspire global leaders with a gift today
When you give to the Global Leadership Development Fund, your gift inspires and equips Christian leaders, facilitating transformation in some of the world's most challenging environments.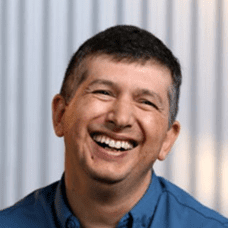 "Without your heart for giving, we could not have had the GLS in many countries like Bolivia, Ecuador, Cuba, Chile, Peru and others in the rest of Latin America."
Carlos Arroyo, South America