Published March 13, 2019
Why I Started a Business to Give Away 20 Percent of my Profits
I attended my first Global Leadership Summit event in 2017 while working in insurance sales. After hearing Gary Haugen speak about injustice, I was moved.
I had been studying slavery and injustice in America and was interested in the church's response. Gary Haugen helped me understand the larger scale of modern-day slavery and human trafficking, and the solution.
I was inspired to start my business in order to give back.
I decided to start my own independent broking agency, Green Brook Insurance. My intention was to give 20 percent of our profits back to three important causes: financial literacy for the disadvantaged and uneducated, mental health research and the fight against human trafficking.
In the insurance industry, the residual income is what is attractive to people, but typically, people don't see results until three years in. Before I started my agency, I figured 20 percent of zero is zero, so it wouldn't hurt too badly! In other words, if I start the giving precedent when the money is low, that proportional donation amount won't seem as stark when I'm giving significantly more!
I have been applying the principals I've learned at the Summit. And as I innovate and take calculated risks, I go on, despite any uncertainties.
Getting started included its fair share of battles and triumphs.
In starting Green Brook, there was administration, legal stuff, accounting, servicing, and (oh, yeah) I had to sell too! I'd never operated a business before. While I researched, I simply couldn't anticipate the challenges, which incited doubts, mostly about myself. I was convinced Green Brook was supposed to exist, but the challenges produced an uneasiness about myself that ended up leading me to a crossroads: Do I give up (not an option) or figure it out (only option)?
…the challenges produced an uneasiness about myself that ended up leading me to a crossroads: Do I give up (not an option) or figure it out (only option)?
I got a mentor. I got a counselor. I got wisdom from my church small group. I started paying attention to things that are true about myself and not lies that I had been believing. My counselor said I may have ADHD, possibly depression and definitely a need for self-compassion. My mentor said I need to utilize my partners in areas where I'm weak; he said I need to establish a scalable infrastructure that can support different phases of my vision. My small group is holding me accountable to keep balance in life and depend on God's wisdom and provision through prayer, fasting and the Word. I've also received the message that some negative thinking, particularly about myself and my abilities, must be uprooted and replaced with true, positive, biblical thinking. I consider the victories I've been receiving a manifestation of God's grace. It is obvious to me that He wants to glorify Himself through these triumphs!
In the midst of what could seem like chaos, God is calm, in control and in love with me. I have never needed to worry. God has used this process not only to show me who I am and His love for me, but He's giving me a deeper sense of His love for people.
The blessing of the Summit inspires me to go on.
While the Summit speakers are inspiring, there's more. Their successes mean even more to me now that I've realized some success with Green Brook. The struggles and endurance in their stories resonate more deeply with me. They represent worthy causes and are driven by God's goals for them and I feel like I'm a part of the club.
He's giving me a deeper sense of His love for people
I'm encouraged by the ones who have gone before me. Leadership can be lonely, and I see the Summit speakers and attendees as similarly minded brothers and sisters. What is also beautiful is the diversity in the speakers, which demonstrates that success can be achieved by anyone. The Summit not only helped me with the confidence to step out in faith and start Green Brook, but it also helped me with "my why" (Simon Sinek).
If I hadn't pursued this vision, I wouldn't fully be pursuing my purpose. In late 2014, I prayed that God would show me how to live in a way that maximally glorifies Him. God sent me teachings, ideas and people to start my education. And then there was the Summit, which was a goldmine of wealth and resources for exactly what I wanted—to lead a life well, contributing to society.
Leaders are often concerned about spending resources wisely, being efficient with time, etc. There is no better way to spend your resources if you want to cultivate your ability to lead. Go, go, go to The Global Leadership Summit this year—and bring pens, you'll want to take pages of notes!
We welcome and encourage comments on this site. There may be some instances where comments will need to be edited or removed, such as:
Comments deemed to be spam or solely promotional in nature
Comments not relevant to the topic
Comments containing profane, offensive, or abusive language
Anonymous comments
If you have any questions on the commenting policy, please let us know at heretoserve@globalleadership.org
Equip, encourage & inspire global leaders with a gift today
When you give to the Global Leadership Development Fund, your gift inspires and equips Christian leaders, facilitating transformation in some of the world's most challenging environments.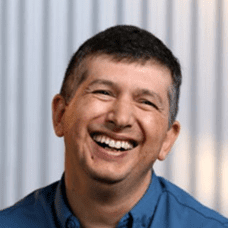 "Without your heart for giving, we could not have had the GLS in many countries like Bolivia, Ecuador, Cuba, Chile, Peru and others in the rest of Latin America."
Carlos Arroyo, South America