Published February 20, 2019
Why Our Church Gives Away Shoes to Kids in Central Michigan Elementary Schools
A dream for Central Michigan.
When we planted Thrive Church MI in 2013 in Central Michigan, our vision was to be a church for people who have given up on God and given up on church. As a church, we have a dream. We don't want just to be in Central Michigan, we want to be for Central Michigan. If something went wrong and our church disappeared tomorrow, I hope our community would notice and flood social media with disbelief.
We don't want just to be in Central Michigan, we want to be for Central Michigan
Attending and now hosting The Global Leadership Summit has helped cement our dream for our community and we are now building upon that dream.
I can remember sitting in my first Pastor's Gathering for Summit host site leaders (an unbelievable training event) and going through the training. I kept thinking to myself, my team is going to love the Summit! I heard story after story about how the Summit is literally changing entire communities.
A light bulb went off.
Up until that point, I just thought we were providing a top notch leadership training event for our community, which is great. But then it hit me, we are providing one of the most important opportunities for our community there is—this is a time to train, lift up and encourage the influencers and leaders in our community. They, in turn, will use their influence to lead positively and influence others to lead the change they hope to see in Central Michigan. What better way to be for the community? It was such a powerful moment!
Honestly, during the 2018 Summit I was exhausted.
Honestly, during the 2018 Summit I was exhausted. It had been a difficult year. I know coming out of the summer, I should have been ready to take on the next season, but we were about to walk into another fundraising campaign for something we started for our community called the Shoe Project, and I wasn't sure I was ready for it.
But then Erwin McManus took the stage.
At our local site, something started to happen. As he told his story and challenged us, our room went from teary eyed to weeping to ready to climb a mountain! Men and women were being inspired. And when he said, Greatness is on the other side of your pain, it was like we all experienced the same collective light bulb going off at the same time! And his talk lifted me! I was ready, and our team was ready with new vigor! We were lighter. We were ready. We were hungry to reach our communities!
And when he said, Greatness is on the other side of your pain, it was like we all experienced the same collective light bulb going off
Meeting the needs of our community.
There is a lot of poverty in Central Michigan. Many people don't realize how hard it can be for some of our families to put food on the table every day, let alone buy a new pair of shoes for their kids to attend school. Our church sees this every day. So we wanted to come up with a way to serve the families in our community.
Our church decided to adopt an elementary school and buy every student a brand new pair of shoes. When we started approaching schools, they were over the moon with the idea! Here is a glimpse of the heart behind the Shoe Project.
In five years, we've been able to bless five schools by giving away over 2,200 pairs of shoes (worth $60,000+ dollars)! People from all over the country have helped us raise funds to do this. And the powerful thing about the Shoe Project is we're just planting seeds.
Yes, giving shoes to a 3rd grader who has never owned a brand new pair of shoes is amazing! So many teachers, principals and volunteers just start crying. They are especially moved by how we do it. We don't just hand them out. We get on our knees to put the shoes on them. We make a big deal out of it. We read the card that's been handwritten for them by a volunteer. It's all very powerful. But the best part is, we're planting seeds for generosity, for life, for care and for encouragement in our community.
Just imagine if someday one of the 4th graders who received a brand new pair of shoes remembered how they felt and what that day meant to them. Imagine if the next TOMS Shoes idea is birthed by that 4th grader? The possibilities are endless when we're for our community. Imagine the teacher who doesn't give up. We've met teachers who were running on steam, but because of this moment of generosity, they found hope to keep going.
During our last Shoe Project, the principal called our local Fox News and reporters came down to capture this story. I stood in tears as I watched a 15-year teaching veteran tear up as he explained that the Shoe Project day was the best moment in all his years in education.
Powerful things happen when we're for our communities.
We started the Shoe Project for our community. But being a part of The Global Leadership Summit helped us expand our dream and the vision we have for the Shoe Project, and to make it global. In 2020, we're headed to Swaziland, Africa to bless 450 kids with brand new shoes! I love that our dream and vision that has been expanded, and we're so grateful for the inspiration of the Summit!
We welcome and encourage comments on this site. There may be some instances where comments will need to be edited or removed, such as:
Comments deemed to be spam or solely promotional in nature
Comments not relevant to the topic
Comments containing profane, offensive, or abusive language
Anonymous comments
If you have any questions on the commenting policy, please let us know at heretoserve@globalleadership.org
Equip, encourage & inspire global leaders with a gift today
When you give to the Global Leadership Development Fund, your gift inspires and equips Christian leaders, facilitating transformation in some of the world's most challenging environments.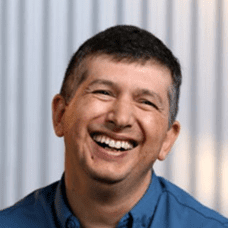 "Without your heart for giving, we could not have had the GLS in many countries like Bolivia, Ecuador, Cuba, Chile, Peru and others in the rest of Latin America."
Carlos Arroyo, South America