Published August 4, 2017
Because of the GLS | Young Leader in Kazakhstan Takes a Risk for Youth
Nellya Mironyuk is from Kazakhstan, one of the largest countries in the world, but one that you may not be that familiar with. It was one of the last Soviet republics to declare their independence after the fall of the Soviet Union in 1991. Their history of human rights abuse and suppression of political opposition heavily restricts freedom of assembly and speech.
Nellya grew up in this reality and it's the place where her family was called to plant four churches—and one church in a prison.
"In the 90s, it was actually a little easier be a Christian and share the Gospel," Nellya said. "But the government has been coming down even harder on the church. They passed a law [recently] saying that we're not allowed to invite people to church, and any missionary work is prohibited. When I was younger, we had people coming to our schools from government agencies saying not to go to our church. They took our names, and said our church was a cult. And when we had events at our church, they would send the teachers to record who was there."
It hasn't always been easy, but Nellya's family knew this is what God wanted for their lives.
"I don't know if we were afraid," Nellya shares. "We knew this is what we had to do. This is what the Bible called us to do. The Bible even says, if you follow me, you will have people who will not understand you and may even hate you. But it didn't ever stop us from following God's call to minister to these people. We never had a question about stopping."
 The GLS comes to Kazakhstan
In 2005, Nellya's father attended The Global Leadership Summit for the first time. The very next year, with the support of generous donors, he worked with WCA and the local team in Kazakhstan to bring the GLS to leaders hungry for encouragement and training.
"I attended the GLS for the first time, when I was only 14!" Nellya exclaims. "I remember one of the speakers saying, 'God gave you people.' And I realized that I can influence others. I can start small, but I can do so many great things. It touched my heart.  Maybe I was so naïve that I really believed it, but I thought 'we've got to do something.'
"We will change our city. The young generation is the future so we need to take action.
"I wanted to see my friends come to Jesus Christ," Nellya said. "I wanted to see my friends transformed. I wanted to see my friends doing big things for Jesus. And the GLS was just what I needed to be encouraged to take action."
Nellya was inspired to be a better leader, and not only got a confirmation that she was a leader, but that she could become a great leader. "And why not start now? Why do I have to wait until I'm 24 or 25?" Nellya asks. "I couldn't wait that long. I really wanted to start making change right away, and change people's lives—change the world."
Inspired by a Vision
After the GLS, Nellya was inspired by a vision. "We wanted to share the Gospel with our peers," Nellya shares. "We wanted to transform people's lives. And at 14, I wanted to start right away."
She joined the teen ministry at her church, and she and her sister started organizing youth camps.
In June after her first Summit, they organized the very first teen camp. There were about 100 youth at that first camp—the majority of them not Christian. "We prayed that God would touch their hearts," Nellya shares. "I was on the worship team and I was just singing, and when I opened my eyes, people were raising their hands crying, and asking God for forgiveness, and asking each other for forgiveness. We didn't tell them to do it. It was so powerful. It had to be God."
Ten years later, the camp continues to minister to youth, and introduce them to Jesus.
Nellya Grows in Leadership
"I know from my short experience, to be a leader is a hard task," said Nellya. "It's not just being a boss, but it's about being an example and influencing others. The GLS has helped me to grow as a leader and realize the vision God has for my life.  It inspired me to start a camp when I was 14 that continues to minister to teens in Kazakhstan today."
Nellya wants young leaders to be brave and not let people look down on them because of their age. "I want them to recognize that even if they may not know anything yet, they are still growing. But don't let it stop you from taking action. Take a risk, and lead. Just do it!"
Don't let anyone look down on you because you are young, but set an example for the believers in speech, in conduct, in love, in faith and in purity. 1 Timothy 4:12
We welcome and encourage comments on this site. There may be some instances where comments will need to be edited or removed, such as:
Comments deemed to be spam or solely promotional in nature
Comments not relevant to the topic
Comments containing profane, offensive, or abusive language
Anonymous comments
If you have any questions on the commenting policy, please let us know at heretoserve@globalleadership.org
Equip, encourage & inspire global leaders with a gift today
When you give to the Global Leadership Development Fund, your gift inspires and equips Christian leaders, facilitating transformation in some of the world's most challenging environments.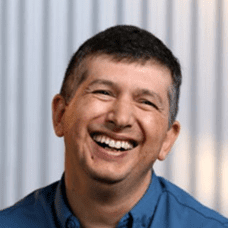 "Without your heart for giving, we could not have had the GLS in many countries like Bolivia, Ecuador, Cuba, Chile, Peru and others in the rest of Latin America."
Carlos Arroyo, South America