Published September 4, 2019
Youth Struggling with Addiction Discover New Intention For the Lives at the GLS
Across Uganda, there is a great need for leadership development based on biblical values. Leaders who lack integrity are celebrated by the majority of our population. The Christians who really want to do the right thing face a lot of opposition and are not seen in very good light. While the younger generation, who constitute 78 percent of the population, have very few role models, so they swim against the tide until they just give up and join in.
James Imani Amanyire is one of the young men who has attended The Global Leadership Summit in Uganda. Through the Summit, he was impacted to influence and encourage youth struggling with addiction, and the ripple effect is already being witnessed in the lives that he's touched.
One of the speakers who touched me was John Maxwell. He spoke about intentional living. I have a history of addiction. I was once seriously impacted by addiction for almost 14 years, and this began at a very young age. But by God's grace, I managed to overcome. For the last two and a half years, I have been sober. God touched my heart about joining the cause to help my fellow youth and those people who are struggling with addiction-related problems.
By profession, I was in software engineering, but I feel my calling is in social work. I had this passion to reach out to youth and help them to recover from these addiction-related problems. So, when John Maxwell spoke about intentional living, I decided to do something. It reemphasized my purpose.
I began an organization [Beautifier Community Youth Empowerment], got it registered and through this organization, I have tried to reach out to some youth. Currently I have helped rehabilitate two youth. One was struggling with heroin addiction; I got him from the street, took him back to his home and he is currently three weeks sober. The parents are all very excited—they can't believe this. One other has been struggling with cocaine and alcohol addiction; he is also now sober and he's one of the people I am working with currently to push for this project.
Ampaire Felix is one of the young men James has had an impact on, and as a result, he's used his influence to express his concern to key influencers in the country.
I am part of Beautifier Community Youth Empowerment. James influenced me a lot. He was the first one [I knew] who transformed and quit the addiction life. With the positive life he started living, there's a way it challenged me—I would see what I want to be but didn't think I could do it. But through the love, care, concern and the advice, he helped me in my life transformation. We, as Beautifier Community Youth, are focusing on empowering people, helping the youth who don't know the dangers of alcohol and addictions. We help them to know these dangers and avoid them. And for those who are addicted, we want to help them to know where it leads.
I also intentionally decided to address the issue of cheap alcohol in the market, and the Indian tobacco, which is very cheap and destroying youth. It's like a drug sold legally on the shelves. So, I intentionally spoke about it, and I was invited to express myself with key influencers in the country. I believe this has helped me a lot to bring positive change in my community. 
We welcome and encourage comments on this site. There may be some instances where comments will need to be edited or removed, such as:
Comments deemed to be spam or solely promotional in nature
Comments not relevant to the topic
Comments containing profane, offensive, or abusive language
Anonymous comments
If you have any questions on the commenting policy, please let us know at heretoserve@globalleadership.org
Equip, encourage & inspire global leaders with a gift today
When you give to the Global Leadership Development Fund, your gift inspires and equips Christian leaders, facilitating transformation in some of the world's most challenging environments.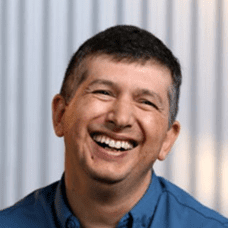 "Without your heart for giving, we could not have had the GLS in many countries like Bolivia, Ecuador, Cuba, Chile, Peru and others in the rest of Latin America."
Carlos Arroyo, South America