Straight into Compton
Published April 2, 2019
This article is a part of the GLS19 Faculty Spotlight series where we feature fresh, actionable and inspiring leadership content from this year's Summit speakers.
In 2013, Mayor Aja Brown stepped up to the leadership challenge in Compton, California—one of the most economically depressed and gang-infested cities in the U.S. Her initiatives have resulted in significant change and a turnaround in that community. We are thrilled to welcome Mayor Brown to the 2019 GLS faculty to share her learnings around leading change.
Watch the video below for a sneak peek into the remarkable story of how this visionary mayor is truly transforming lives.

Join 405,000+ of your peers for two days of fresh, actionable and inspiring leadership training from a world-class faculty at a location near you.
Never miss an inspiring leadership insight or the latest leadership news!
About the Author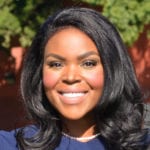 Mayor
City of Compton
At the age of 31, Aja Brown made history as the youngest elected mayor of Compton, California. A national trailblazer, her revitalization strategy centers on family values, quality of life, economic development and infrastructural growth. Overwhelmingly re-elected to a second term in 2017, Mayor Brown's community initiatives and policy changes have significantly reduced gang-related homicides and the unemployment rate. Mayor Brown is the recipient of multiple honors, including the esteemed 2016 John F. Kennedy New Frontier Award.