How Our Adopted Child Taught Us to Lead from the Heart
Published February 18, 2020
Dr. Krish Kandiah's talk at The Global Leadership Summit 2019 caused me to stop, turn around and take another look.
Dr. Kandiah is an advocate for fostering and adoption. He's the founder of Home for Good, a charity seeking to find permanent, loving homes for kids in the UK foster care system.
What causes people to have such a strong desire to influence and even save lives—especially the life of a child?
Where does having a heart for a child even come from? How does this "heart transformation" even take place?
One thing's for sure: as we grow in godliness, we see things through a different lens. So often, it's easy for us to see right past amazing, simple, beautiful, obvious things that bring goodness to our souls and goodness to others.
This is especially true about having an awareness of children in need. Once we serve a child in need—or for that matter, anyone in need—we see everything differently.
Once we serve a child in need—or for that matter, anyone in need—we see everything differently.
I have an artist friend who once showed me how to look at a beautiful photograph. Now, when I see a picture, I notice things that I would have never noticed had he not made me aware. In the same way, serving others causes us to see everything with a godly perspective.
What does it mean to "lead from our hearts?"
It means your life is in harmony with God. What's important to Him is important to you.
What burdens Him burdens you.
Children have a special place in Jesus' heart. In Matthew 19:14, Jesus says, "Let the little children come to me, and do not hinder them, for the kingdom of heaven belongs to such as these."
Marty Neumeier is the author of an important book on marketing called ZAG. He says if a company wants to be noticed, it has to do things differently from the norm. He refers to this as "radical differentiation." It's looking at things through a different lens.
This kind of thinking not only makes sense in marketing but in life in general.
While most people strive to have a normal life, or they ZIG, a life dedicated to Jesus will cause us to ZAG. This is actually an interesting way to describe the life that Jesus modeled. If you want to be great, be a servant. If you want to be first, be last. In order to be rich, be poor. Do good to those who hate you. It's a kingdom where leaders are servants, neighbors and enemies are loved and poor widows give away half their money. Is it any wonder why Jesus' life is such a culture shock?
So how does Dr. Kandiah's message relate to my world?
My wife, Connie, and I had our world turned upside down when a neighbor asked us to babysit her 13-month-old niece. Beware—having the heart of God can make you susceptible to major life changes! Your circumstances may just be jolted.
Our neighbor brought this 13-month-old little girl to our house just so we could see how beautiful she was. We were absolutely taken by her, but unfortunately, her story was not a beautiful, happy one. She was a "cocaine baby," addicted to her mother's habit and abandoned.
A couple of days later that same neighbor came to our house and said, "The little girl is now in the custody of the county and they are looking for someone to babysit her for a few days. Would you guys be interested?"
We had no words at that moment. "Isn't there a relative who could take her?" we wondered. What in the world do we do when faced with that question? We had many reasons for our lives not to be interrupted. We had two other kids in elementary school. I had a busy career. Our lives were full.
We gathered our two kids together and had a family meeting. Our eight-year-old daughter said, "What would Jesus do?"
That's not even fair! But we prayed and decided to enter into this seemingly two-week adventure. After all, two weeks is within reason. We had to get certified for emergency foster care.
It all happened so fast. But we welcomed this little girl into our home and into our lives. We immediately contacted our extended family, our church family, neighbors and friends to let them know. It was one of the happiest, best days of our lives.
The journey took us places that we had never ever planned for. Doctor's visits, court for three years, adoption day in the judge's chambers, a room addition, her elementary school years, high school, an attempt at college, her marriage and her beautiful two-year-old little boy. That little girl who came to our house at 13 months old is now 33. She is a wonderful wife and mother. Our entire family is so proud of her. She and her husband and our grandson live two miles from us.
How did this happen? Why did it happen to our family?
Having a heart for God caused us to be susceptible to a "life interruption.
Having a heart for God caused us to be susceptible to a "life interruption." We put our hearts and faith into action. Our life story had to include this little girl. Because of her, we love better, laugh better, sing better, cry better, dance better and live better because we "led from our hearts." We did it and we are thanking God every day for directing our paths.
Dr. Kandiah's perspective on "leading from the heart" highlights some very important ways to live your life values.
These are my 7 takeaways from his teaching:
See the potential in people when others see only problems.
See hope when others see only Chaos
See opportunity when others see only obstacles.
See treasure in people instead of trouble.
Value dignity and worth in people
Prejudice is the opposite of hospitality
Be a "set the table leader," not a "bang the table leader."
 Thank you, Dr. Kandiah, for reminding us of what is important to Jesus—leading from the heart.
Never miss an inspiring leadership insight or the latest leadership news!
About the Author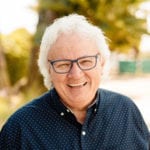 Chief Culture Officer
In 2007, Stan Endicott founded Slingshot Group. It has grown to become one of the top church staffing and coaching companies in America. He follows the instruction and understanding of Proverbs, 20:5: "The purposes of a person's heart are deep waters, but one who has insight draws them out." Most recently Stan's creative approach to coaching has been captured in his IMPROVleadership coaching model, which helps leaders build trust, encourage risk-taking, increase collaboration and promote creativity. Today his role at Slingshot Group is that of CCO, Chief Culture Officer.