Social Leadership
Published June 4, 2020
This article is a part of The Global Leadership Summit Faculty Spotlight series where we feature content from the upcoming #GLS20 speakers. This is a great opportunity to get a taste of what to expect from these amazing leaders!
The GLS team is excited to welcome Facebook's Head of Faith-Based Partnerships, Nona Jones to the Summit stage! She will be sharing insights from her inspiring life journey in leadership. This post comes out of a recent GLSnext Event, where Nona shared a passionate and insightful message about how to exercise leadership on your social media platforms.
Most of us approach social media with a focus on our own goals, our own messages and our own agendas. We want people to support our programs.
But the reality is, most people aren't all that interested in your stuff. They want to know that you care about their stuff. That's why they are connected to you.
People desperately need to know that they matter to you. They are more than just a number. They are more than just a like.
They want to know that you actually care about them at the human level.
If you don't have time to engage with the people who engage with you, then you don't have time to lead them.
A following deserves a leader.
Instead of being so focused on how to build a following, you should be asking the question: "How do I get to know people on an individual level to make sure that they know that I care about them?"
Here's how you do that:
Respond to their comments with questions.
Respond to their questions with questions.
Facilitate a conversation.
Lead your following. Love your following. 
 Leadership is not a right. People don't have to connect with us. They don't have to like our posts. So, when people actually choose to connect with us, they are choosing to give a part of their life to us. And we have to demonstrate to them that we are worthy of their trust.  
 We have to spend the time to respond to their comments with questions. 
 And here's where it becomes very powerful. Learn to know your people so well that you can connect people with one another. 
Join Nona Jones and 14 other world-class speaker for The Global Leadership Summit on Thursday and Friday, August 6-7, 2020. Get ready for your two-day infusion of fresh ideas, actionable concepts, leadership principles and heartfelt inspiration from a world-class faculty at a location near you!

Never miss an inspiring leadership insight or the latest leadership news!
About the Author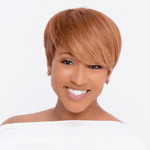 Head of Global Faith-Based Partnerships
Facebook
Nona Jones serves as the Head of Global Faith-Based Partnerships at Facebook where she facilitates the company's work with faith-based organizations around the world. She is also CEO of eChurch Partners, and is author of two books set to release with Zondervan Publishers in 2020, including "Success from the Inside Out." She is a graduate of Leadership Florida and the Presidential Leadership Scholars Program, a joint initiative of President George W. Bush and President Bill Clinton.