Published August 1, 2019
10 Things You Can Do to Make the Most of #GLS19
In one short week, the GLS community will gather together for the 2019 Global Leadership Summit at 500+ locations nationwide. Excitement is mounting. And all of us are asking, "What am I going to learn?"
We have seen it time and time again. The two days you invest in the GLS will have an outsized impact on your life. And a few minutes of preparation can pay big dividends as you get your heart and mind into the right posture for the experience.
So put the final touches on that work project. Place that "out of office" message on your email. And in the midst of your to-do list, try to take a little time to prepare yourself for what you are about to experience.
Here are the Top 10 things you can do to make the most of your 2019 Global Leadership Summit experience!
1. Download the GLS19 app
Get speaker biographies, the daily schedule, save and share your session notes, read speaker biographies, order speaker books and more.
2. Download the GLSnext app
For year-round leadership development, GLSnext provides more than 700+ videos from 120+ leadership experts, including full Summit talks and backstage content with new videos added each week.
3. Identify specific people in your workplace who represent different generations:
Gen Z, born 1996 to 2010
Millennials, born 1980 to 1995
Gen X, born 1965 to 1979
Baby Boomers, born 1946 to 1964
Traditionalists, born before 1946
How do the different generations think about:: Diversity? Debt? Technology? What's important in life? Researcher Jason Dorsey will help us understand the key differences between each generation and how to lead a multi-generational team.
4. Rate yourself on your ability to handle rejection
Jia Jiang will help us understand the psychology of rejection and help us grow in this critical leadership skill.
5. Evaluate the last time you had to negotiate a disagreement with someone
It could be with a co-worker—or at home with a child or a teenager. What went well? What was challenging? Former FBI hostage negotiator Chris Voss will help us learn the mindset and skill needed to be better prepared for negotiations both at work and at home.
6. Think about a project you are considering that will require a considerable capital or human expenditure.
What gain are you expecting to receive from the investment? Is the return worth the level of investment you are planning? Craig Groeschel will walk us through his counter-intuitive process to get the optimal return from his leadership investment.
7. Join the conversation on social media
Check out this invitation from our #GLS19 social media hosts, Sam Collier and Susie Gamez, and learn how you can interact with us online @GLNsummit during this year's Summit!
To get an inside look at Liz Bohannon's entrepreneurship journey. She will share insights from her new book, Beginner's Pluck, on building a life of purpose, passion and impact.
9. Identify the name of someone you know who has been impacted by the foster care or adoption system
Was their experience positive or negative⁠—and why? Dr. Krish Kandiah will share leadership lessons he has learned through his involvement in that system.
10. Pray. Add a daily prayer this week
"God, prepare my heart to hear the message you need me to hear at the Summit. Guide me to know where to focus my growth for the next leadership season."
See you at the Summit!
We welcome and encourage comments on this site. There may be some instances where comments will need to be edited or removed, such as:
Comments deemed to be spam or solely promotional in nature
Comments not relevant to the topic
Comments containing profane, offensive, or abusive language
Anonymous comments
If you have any questions on the commenting policy, please let us know at heretoserve@globalleadership.org
Equip, encourage & inspire global leaders with a gift today
When you give to the Global Leadership Development Fund, your gift inspires and equips Christian leaders, facilitating transformation in some of the world's most challenging environments.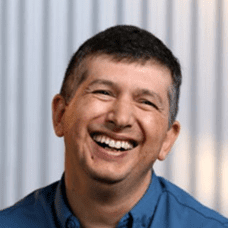 "Without your heart for giving, we could not have had the GLS in many countries like Bolivia, Ecuador, Cuba, Chile, Peru and others in the rest of Latin America."
Carlos Arroyo, South America