Published March 12, 2020
6 Ways to Prepare and Lead Through Chaos
One of the hardest things a leader will ever do is lead in the midst of chaos. Difficult seasons can pull out the best, or the worst in someone and their team.
Bishop Walter Harvey leads Parklawn Assembly of God Church in the heart of Milwaukee. Little did he know how God would use the Summit to prepare him and his team before a series of events led to the August 13, 2016 Milwaukee riots.
Difficult seasons in leadership are unavoidable. So how do you prepare for it? And what are the outcomes in leading well through chaos?
Bishop Walter shares what he learned from leading his church through the Milwaukee riots, and how the Summit came at a strategic season in the church's ministry.
___
1. Invest in your leadership and develop the leadership capacity of your team
One of our church values is investing in leadership. For example, I am committed to reading one book each week and listening to 5-10 podcasts or messages each week. My leadership team also signed on to read and listen to podcasts regularly. We each submit a summary of our takeaways at monthly gatherings. It is more than a task for us; it's a journey and covenant to greater development. We know those we lead will benefit when our leadership bucket is full.
2. Clarify your mission
I have a personal mission statement: "Live Full—Die Empty." It means I must maintain a full capacity of passionate leadership, which I am depositing into younger leaders, so when I pass, I have no regrets, nor do I cause the next generation to wish they had received more from me.
God has placed on my heart the dream of a place where streets are safe, neighborhoods are clean, families are united and resourced, employment and entrepreneurship are fair and free-flowing, children are educated and held in high esteem, government (police and elected officials) are taking leadership from and in partnership with the citizens in an environment that is not antagonistic or partisan, churches are building people holistically and the young adult generation is positioned to regenerate this dream to the next group of emerging leaders.
Without a clear mission and vision, we cannot accomplish this dream.
3. Be present and show up, even in your imperfection
Despite poverty and a sense of hopelessness inside the city, I am not discouraged. I'm actually encouraged, and I try to see my city through spiritual eyes.
The August 2016 riots erupted a few blocks from our church, revealing our scars and imperfections. They highlighted the deep sense of frustration and disenfranchisement of many poor and spiritually impoverished people in our city.
They also highlighted the church in both its broken and healthy states. At our worst, we are segregated, in competition with one another, too committed to our denominations and prideful doctrines than we are to the people in our communities. At our best, we came together in our imperfections and displayed our scars to each other.
Scars tell a story! We walked among the people who gathered around the scene of the riot. We talked with them, prayed and began to develop relationships with them. We loved, listened, learned and then we were allowed to lead many of them to light. The light meant taking them to church, inviting them into our homes and lives, connecting some with educational opportunities and jobs. It was definitely not a one-way transaction. We, the local church received just as much. We received
Rebuke for not being there before the riot occurred.
Guarded trust that had to be stewarded to gain more.
Acknowledgment that we did come, despite our imperfections. Our scars were revealed and not covered up.
My prayer is that many would declare a personal faith in Jesus as their Lord and their God.
4. Open your heart and your doors for God to work in and through you
Prior to the riots, our church had been led to create space in our hearts and schedules for what we called a "surge" of souls—our church theme in 2016. We introduced people to Christ, welcomed them into discipleship programs and invited them to serve in the church and community. A year earlier, God had whispered to me to "to prepare for the surge."
And on August 13, the surge was outside our doors.
The greatest outcome was seeing many other churches follow our lead and join us. These relationships are still intact and growing stronger. Together, we continue to provide leadership and partnership with the government. We provide mentoring and assistance to the public schools we adopted.
Most of all, we continue to provide the gift of presence where previously there was pain and anger.
5. Look outside your walls, and realign your focus
If I had not attended the GLS, I would have been an observer during this time of crisis, rather than being an instrument in God's hand, rewriting human and heavenly history. The church I lead would have continued to focus on the inside condition rather than on the surge outside.
Our church has realigned our focus outside our walls. We don't want to be churches that only draw attention during moments of crisis and then fade away. Here are the ways we realigned our focus:
We developed an "adopt a block" program that continues to clean the neighborhoods as well as provide the gift of presence in the park where children play.
We organize a group of pastors to partner with us in adopting neighborhoods, schools and connect people spiritually to God.
We realigned our church budget, strategy, staff and programs to facilitate youth and community outreach.
We sponsor community events, youth game nights and sporting events.
We even changed our midweek service from being church focused to being community focused.
We are repurposing our church kitchen into a food incubation space for entrepreneurs.
Finally, we have strategized for economic development in order to sustain these changes with financial resources.
6. Don't wait. Don't stop. Dance!
Don't wait until crisis happens. But if it does, go among the people safely and wisely. Lead by serving in a way that honors God and is consistent with Scripture.
Finally, don't stop loving, listening and learning. Be consistent. That is the place where the Holy Spirit is dancing. Since August 13, we have been following His lead as He takes us in His arms to dance. Let Him lead you, spin you, dip you, toss you—even catch you. He won't drop you!
____
We are grateful for leaders like Bishop Walter Harvey who lead churches that bring healing and hope to broken communities through restoration and showing the servant heart of Jesus in tangible ways. May difficult seasons in your life bring out your best leadership.
We welcome and encourage comments on this site. There may be some instances where comments will need to be edited or removed, such as:
Comments deemed to be spam or solely promotional in nature
Comments not relevant to the topic
Comments containing profane, offensive, or abusive language
Anonymous comments
If you have any questions on the commenting policy, please let us know at heretoserve@globalleadership.org
Equip, encourage & inspire global leaders with a gift today
When you give to the Global Leadership Development Fund, your gift inspires and equips Christian leaders, facilitating transformation in some of the world's most challenging environments.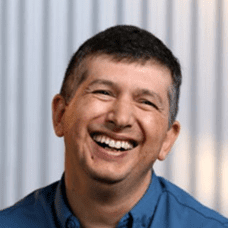 "Without your heart for giving, we could not have had the GLS in many countries like Bolivia, Ecuador, Cuba, Chile, Peru and others in the rest of Latin America."
Carlos Arroyo, South America