Published August 1, 2018
Five Emotional Skills to Look For in Hiring—Danny Meyer—GLS 2018 Faculty Spotlight
Danny Meyer is CEO of Union Square Hospitality Group and the founder of Shake Shack. Highly acclaimed for some of New York's most beloved restaurants, including Gramercy Tavern, in 2015 he was named one of TIME Magazine's "100 Most Influential People." Meyer's New York Times best-selling book, Setting the Table, examines the power of hospitality in restaurants, business and life.
The first time I applied for a job in the restaurant business, the interview consisted of me walking into the restaurant, the owner looking me up and down, and him blurting, "You're hired"—all while he was sitting twenty feet away at the bar.
Later, when I started hiring employees, I knew that wasn't going to be how we did it. At first, I looked only at technical skills. But I just kept finding that a lot of the candidates who came with impressive credentials were not always the kind of people I could also see genuinely wanting to take care of our guests. Some people who had the least impressive technical skills ended up being the biggest stars at the restaurant, while others—with the most impressive technical skills—ended up weighing down the ship.
Hiring people is kind of like being the captain of your neighborhood touch football team. You distinguish yourself first and foremost by picking your team better than the other guy. And I always felt that would be our advantage.
Every time we employ somebody, there's a big leap of faith on our end and on the end of the prospective employee. We're both taking a risk that this is a good fit. And what I started to realize is that a person may be great at knowing how to cook or open a bottle of wine, but that even more important are their innate hospitality skills. People who thrive when they make others feel better would become our biggest champs.
So, for a few years I said, "I'm going to stop looking for technical skills and just look for emotional skills," because I figured I could always teach technical skills.
I eventually realized that wasn't enough either; we needed a balance. You can be somewhat less accomplished on the technical skills because, if you have those emotional skills and you need a little polishing on the wines of Tuscany, I bet we can teach you. But you can't come in and work at The Modern, never having opened a bottle of wine in your life.
The five emotional skills I look for are:
1) Kindness and optimism
We work long hours, and I want to be surrounded by friendly, hopeful people. Skeptics rarely work out well on our team.
2) Intellectual curiosity
Do you approach each moment as an opportunity to learn something new?
3) Work ethic
In addition to being trainable on how to do a job the right way, does it matter to you to do that job as well as it can possibly be done?
4) Empathy and self-awareness
Do you know your own personal weather report and how it's impacting both you and other people today? Do you care how your actions make other people feel?
5) Integrity
Do you have the judgment to do the right thing even when no one else is looking?
So, while we don't have a test for them, just by naming these emotional skills and being conscious of them before, during and after the interview, I think our batting average is pretty high. We're mindful about what success means for ourselves and our employees.
This article originally appeared on TIME Magazine's website here.
We welcome and encourage comments on this site. There may be some instances where comments will need to be edited or removed, such as:
Comments deemed to be spam or solely promotional in nature
Comments not relevant to the topic
Comments containing profane, offensive, or abusive language
Anonymous comments
If you have any questions on the commenting policy, please let us know at heretoserve@globalleadership.org
Equip, encourage & inspire global leaders with a gift today
When you give to the Global Leadership Development Fund, your gift inspires and equips Christian leaders, facilitating transformation in some of the world's most challenging environments.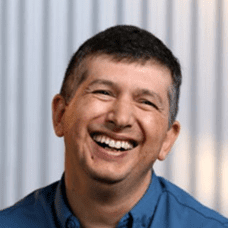 "Without your heart for giving, we could not have had the GLS in many countries like Bolivia, Ecuador, Cuba, Chile, Peru and others in the rest of Latin America."
Carlos Arroyo, South America