Published May 24, 2018
How To Motivate Your Team In a Way That Lasts—Craig Groeschel—GLS 2018 Faculty Spotlight
Craig Groeschel is the founding pastor and senior leader of Life.Church, one of the largest churches in the United States. He's also a Summit favorite. We are thrilled to welcome him back to the 2018 Global Leadership Summit faculty. Check out the Craig Groeschel Leadership Podcast to get a regular dose of his leadership wisdom. Below is sample of a recent episode.
How do we keep our teams highly motivated and engaged so they're performing  at their highest level?
There are few things more frustrating than working around a team member who seems unmotivated. And there are few things more exciting than working around a team member who is highly engaged and always bringing their best.
Let's start with understanding motivation.
I believe so many leaders actually begin with a wrong assumption about motivation. People think, "He's unmotivated" or "She's unmotivated."
What we have to recognize is this: People are not unmotivated. Everyone is motivated. They are just not motivated by the same things.
One individual might be motivated to invest what he has to multiply it. Another individual may be motivated to protect what he has. Still, another individual may be motivated to achieve and take risks to do new things, while her friend might be motivated to avoid new things so she does not fail.
Someone on your team may be motivated by winning.
Someone on your team may be motivated by being included.
Someone on your team may be motivated by making a difference.
Someone on your team may be motivated by growing personally.
Other people may be motivated by money, power, a sense of security or advancing in their career.
Everyone is motivated; we're just motivated by different things. So if we start with that understanding, it can help us to better motivate those who are already motivated, by different things.
This is my definition of a leader's perspective on motivation: the art of leading someone to do what you want them to do because they want to do it.
How do we, as leaders, motivate our teams? Avoid these two things:
1) Avoid Using Fear or Threats
It is almost impossible to work in a climate of fear. Fear may get short-term results, but once fear is removed, so is motivation. Over time, fear is always a de-motivator. Why? Because threats kill trust, and leadership cannot thrive where there is no trust.
2) Avoid Handing Out Candy or Promises
Often we use money in this way. However, money is not one of the greatest motivators. If you always need a reward from the outside, you will never recreate true motivation from the inside.
How do we motivate in a way that lasts?
1) Create a Culture of Appreciation
The single biggest reason why someone will leave an organization is because they don't feel appreciated. If you want to motivate, then appreciate. Appreciate more than you think you should; then double it. Brag on your team to people close to them. Don't just find what is wrong. Celebrate what's right.
2) Model Motivation
You as a leader set the tone for your organization. John Wooden once said, "The most powerful leadership tool you have is your own personal example." You always inspire more by your example than by your words. Rather than just focusing on motivating others, focus on motivating yourself.
Craig Groeschel is senior pastor of Life.Church, an innovative church meeting in multiple U.S. locations and globally online. Life.Church is the creator of the YouVersion Bible App, downloaded in every country. Groeschel speaks frequently around the world and hosts the Craig Groeschel Leadership Podcast. A New York Times best-selling author, his new book, Hope in the Dark, will pre-release at the Summit.
We welcome and encourage comments on this site. There may be some instances where comments will need to be edited or removed, such as:
Comments deemed to be spam or solely promotional in nature
Comments not relevant to the topic
Comments containing profane, offensive, or abusive language
Anonymous comments
If you have any questions on the commenting policy, please let us know at heretoserve@globalleadership.org
Equip, encourage & inspire global leaders with a gift today
When you give to the Global Leadership Development Fund, your gift inspires and equips Christian leaders, facilitating transformation in some of the world's most challenging environments.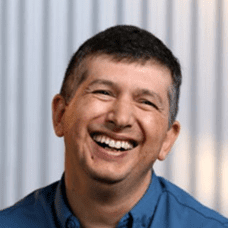 "Without your heart for giving, we could not have had the GLS in many countries like Bolivia, Ecuador, Cuba, Chile, Peru and others in the rest of Latin America."
Carlos Arroyo, South America