Published June 2, 2020
Influence Justice
This article by Global Leadership Network President and CEO, Tom De Vries, was originally written in an internal staff communication series. In this communication, Tom addresses his personal thoughts and opinions on the racial injustice that still exists today, calling leaders to rise up.
Eric Garner. Michael Brown. Laquan McDonald. Tamir Rice. Freddie Gray. And many others… And now George Floyd. 
In New York City, Ferguson, Chicago, Cleveland, Baltimore, and now Minneapolis, the actions of a police officer involved the deaths of African American men and led to widespread protests and unrest. 
Eric Garner died as the result of a choke-hold, stating 11 times: I can't breathe. He was 43 years old. 
Michael Brown was unarmed and shot by a police officer six times, his body left on the street for hours as community members gathered and watched nearby. He was 18 years old. 
Laquan McDonald was shot 16 times by a Chicago police officer who was later found guilty of second-degree murder. He was 17 years old. 
Tamir Rice had a toy Airsoft gun when he was shot at point–blank range by a police officer almost immediately after arriving on scene and without warning. The officers had not heard the information from the 911 call stating that Tamir probably was a juvenile and the gun might be fake. He was 12 years old. 
Freddie Gray died following a seven-day coma brought on by spinal cord injuries sustained in transport by the Baltimore Police Department. He was 25 years old. 
George Floyd was apprehended by a police officer and laid face-down on the street, with the officer placing his knee on Floyd's neck for 8 minutes and 46 seconds. He subsequently died. He was 46 years old. 
It is a litany of transgressions and injustice providing flash points for anger, frustration, unrest and civil disorder. 
I recognize that reading through these events can cause discomfort, distress, exasperation and even anger.
Using our influence to love mercy and do justice is what leaders do. 
In my previous role, I spent much time in the world of injustice. In January 2015, on the Martin Luther King, Jr. holiday, I marched in New York City, in response to the recent death of Eric Garner. I was in Ferguson, Missouri with faith leaders addressing the prejudice and unfairness of Michael Brown's death within days of the event. I have spoken about injustice and written about injustice.  
As Christians, often our life experience and political persuasion influence our perspective on the reality of inequality and injustice that is all around us. For me, one of my great teachers to the reality of injustice was Tony Campbell. Tony was a ministry partner and colleague, and the director of our mission efforts at the Reformed Church in America. He grew up in Gary, Indiana, was inducted into the Indiana track and field hall of fame, attended the Naval Academy, was a Baptist minister and Episcopal priest, served on Colin Powell's staff and was beloved by all who knew him. He was also African American and my friend. 
Tony opened my eyes to much of the injustice that still festers above and below the surface in our country. He shared stories of pain and mistreatment in the South and harassment by police officers because of his race. It was an existence I never experienced. My heart would go out to Tony as I listened to significant tales of bias and inequality. Our relationship woke me up to a level and reality of injustice I knew about but had not witnessed up close and personal. 
It is the decades of ongoing pain and inequality of racism and discrimination that fuels the public and sometimes violent response to the narrative going on around us. And while you may or may not agree with the nature of every response, we must call racism sin, and speak out against the continuous action of injustice that prevails, we cannot turn a blind eye or remain silent. 
Because in the midst of all the darkness, we remain: 
People of faith

 

People who have been called to love one another

 

People who see each person as made in the image of God

 

People who have been called to live and love like Jesus

 

People who recognize injustice and racism as sinful

 

People who reach out to comfort the afflicted and weep with those who weep

 

People who hunger and thirst for righteousness

 

People who are blessed as peacemakers

 
In Scripture, the word justice very simply means to make right.  
What is our call today in the midst of all the unrest and violence? To do justice, to love mercy and walk humbly with God (Micah 6:8). It is to respond by doing what we can to make things right. It is to name what is wrong and unjust and not be content to let it continue to fester, multiply or even exist. 
Isaiah 1:17 says: 
Learn to do good.
    Seek justice.
Help the oppressed.
    Defend the cause of orphans.
    Fight for the rights of widows. 
We must wade into the fray. We must speak up for those on the margins. We must identify what is wrong and work for what is good. 
Using our influence to love mercy and do justice is what leaders do. 
We welcome and encourage comments on this site. There may be some instances where comments will need to be edited or removed, such as:
Comments deemed to be spam or solely promotional in nature
Comments not relevant to the topic
Comments containing profane, offensive, or abusive language
Anonymous comments
If you have any questions on the commenting policy, please let us know at heretoserve@globalleadership.org
Equip, encourage & inspire global leaders with a gift today
When you give to the Global Leadership Development Fund, your gift inspires and equips Christian leaders, facilitating transformation in some of the world's most challenging environments.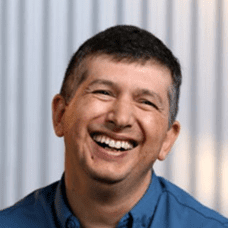 "Without your heart for giving, we could not have had the GLS in many countries like Bolivia, Ecuador, Cuba, Chile, Peru and others in the rest of Latin America."
Carlos Arroyo, South America