Published November 20, 2018
This Week's GLS Events & Prayer Requests
Every Tuesday and Thursday morning at 8:30 am CST, our staff gathers together to pray for our partners across the globe.
Please join us in prayer as we lift up the international Summit events happening this weekend. Pray for God's anointing on every detail and that those who attend would leave feeling equipped, inspired and encouraged to lead the change they long for in their communities.
And if you have a prayer request, please share it with us. We would be honored to pray with you!
November 21
Brasalia, Brazil
Campinas, Brazil
Piracicaba, Brazil
NayPyidaw, Myanmar
Pastors have come to realize the importance of leadership in the church. It's not just that we have the ability to preach or teach, it's gone beyond that. We need leadership in the church not only to lead the church, but to grow our organizations. We can start a movement! I see churches starting to do that as they come together. We are witnessing people beginning to understand and see God's grander vision in their lives.
Chengannur, India
Belem, Brazil
November 22
Collaroy, Australia
Sao Paulo, Brazil
Goiania, Brazil
Ngozi, Burundi
We are deeply thankful to God and for your prayers for the GLS in Burundi in September. Thank you for this opportunity to develop the leaders of our country. Please pray for peace and resources.
Sertaozinho, Brazil
November 23
Ho Chi Minh City, Vietnam
The success of my church is not in how great I am, but how great my flock is. I believe the GLS is truly a great blessing to transform me, my church and my nation of Vietnam. Pray for me. Pray for the churches in Vietnam.
Kosice, Slovakia
Guayaquil, Ecuador
Port-au-Prince, Haiti
Douala, Cameroon
Lviv, Ukraine
The Summit taught us that leadership is about servanthood and giving back. Leaders have to give something. This is opposite to our thinking. But through GLS, we discovered that leadership is about what you give back. Pray that more leaders in Ukraine learn how to be servant leaders. 
Sandakan, Malaysia
Helsinki, Finland
Bauchi, Nigeria
Lagos, Nigeria
Warszawa, Poland
Aalsmeerderbrug, Netherlands
Porto, Portugal
Ranchi, India
Pune, India
Lucknow, India
Jamshedpur, India
Tallinn, Estonia
Nakuru, Kenya
Thika, Kenya
Punto Fijo, Venezuela
Cabimas, Venezuela
Callao, Peru
Shanghai, China
Ostrava, Czech Republic
Tallinn, Estonia
Skopje, Macedonia
One day, as our time on the earth closes. I want to look back and see Macedonia changed forever with the Gospel. That is what keeps me going.
Balneairio Camburiu, Brazil
Novorossiysk, Russian Federation
Santiago, Dominican Republic
Flores Petan, Guatemala
Antigua, Guatemala
Petropavlovsk, Kazakhstan
Cuernavaca, Mexico
November 24
Bobo-Dioulasso, Burkina Faso
Morogoro, Tanzania
Heverlee, Belgium
Abuja, Nigeria
Lagos, Nigeria
Whether you're a small church or you're a big church, as long as you put certain principles in place, you can make it work better. It doesn't even have to do with financial resources, it's just somebody making up their mind to say we can do it. I want to enter a church and ask, Oh! What God is this?
Hyderabad, India
Vizag City, India
Darhan, Mongolia
Port-au-Prince, Haiti
November 26
Puerto Vallarta, Mexico
November 27
Kathmandu, Nepal
God has placed a desire in our hearts to reach out to the un-reached people, and to win the city.  The local church is the hope of the world when it works right. That has really given me a boost to train leaders and bring them together and impart the vision to win the city. God is in control, and he will do it in his time.
We welcome and encourage comments on this site. There may be some instances where comments will need to be edited or removed, such as:
Comments deemed to be spam or solely promotional in nature
Comments not relevant to the topic
Comments containing profane, offensive, or abusive language
Anonymous comments
If you have any questions on the commenting policy, please let us know at heretoserve@globalleadership.org
Equip, encourage & inspire global leaders with a gift today
When you give to the Global Leadership Development Fund, your gift inspires and equips Christian leaders, facilitating transformation in some of the world's most challenging environments.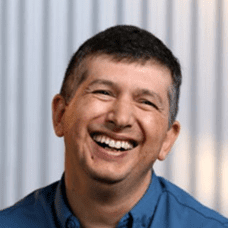 "Without your heart for giving, we could not have had the GLS in many countries like Bolivia, Ecuador, Cuba, Chile, Peru and others in the rest of Latin America."
Carlos Arroyo, South America