Published May 3, 2021
Life-Change in Prison Through Leadership Development
In 2015, The Global Leadership Summit and Prison Fellowship partnered together to broadcast the Summit to 1,500 prisoners in 11 U.S. prisons. In 2020, even in the midst of the global pandemic, which hit prisons particularly hard, the Summit was live-streamed to more than 9,000 incarcerated men and women across the U.S.
The Summit was live-streamed to more than 9,000 incarcerated men and women across the U.S. in 2020.
Bringing the GLS to corrections facilities provides important reminders to incarcerated men and women about their value and purpose, and also provides an opportunity for people to access, sometimes for the first time, a vision of themselves beyond their past mistakes while providing the leadership training and encouragement for a new path forward. In fact, 95% of incarcerated men and women are eventually released, so the Summit is also an incredible opportunity for them to gain a new skill set for successful reentry.
We receive letters from attendees in prison on a regular basis simply expressing how this event has helped them gain a new perspective on their lives. This letter from Justin at the Colorado Department of Corrections is an inspiring picture of how the Summit and other programs like it can transform lives for the better.
Be encouraged by his journey and the impact his leadership and positive influence are having across his facility!
(Note: some information in the letter below has been redacted to exclude personal details).
As a teenager, I had some serious issues I was unaware of that were influencing me and led me to making a year-and-a-half-long series of increasingly worse decisions. At the age of 15, I committed a very serious crime and was charged as an adult. I was subsequently sentenced to 40 years in prison at the age of 17. I have been incarcerated ever since.
I am now 31 and my life has taken a drastic turn in the most positive of ways.
As soon as I went to jail, I recognized what I had done to myself. I didn't fully understand why I had come to that point, but knew it was my fault. I realized then that just as I had destroyed so much, I could also create something different, something new. It took years of reflection, study and trial and error.
I was struck by the feeling that we needed to have something like this here. Our people in this facility needed to be invested in…
Eventually I caught the break of a lifetime and was invited to come train to be a leader in a new program called the Gang Awareness Program—created and run by prisoners. We focused on helping gang members get back on track with their original purpose, passion and plans for a successful life. I did so well in the training I was selected to be the leader of our peer facilitator team consisting of ten others, ranging in age from 25-45. I was 22 at the time. From that experience I learned how to develop and teach classes, lead small teams and problem solve organizational issues.
From that starting point, I branched off into program development where I experimented with bold and innovative approaches to programs in DOC. Over time, I made a name for myself as someone who was always willing to help his peers and continually work on implementing new ideas in the facility. Finally, in 2016 I co-founded my first successful program, Beyond Thinking. We started as a self-help focused public speaking class. Now we have broadened our focus to being a platform for the development and expression of an individual's highest and most authentic self. We have numerous classes in communication, problem solving and preparing for reentry into society.
We have an educational channel here that plays different college courses, documentaries and other educational material, one of them being The Global Leadership Summit. In 2020, during quarantine, I was lucky enough to be flipping through channels on my TV [in the prison] when lo and behold I came across the 2019 Summit. As soon as I saw the Summit, I dropped everything and started to watch it. Unfortunately, I only got to see one speaker. It took me two weeks of constantly checking the channels to find it again, and I was able to watch it in its entirety. It was August 28th, 2020. I took a bunch of notes and talked with anyone who was even close to interested. But most importantly, I was struck by the feeling that we needed to have something like this here. Our people in this facility needed to be invested in like that.
I am committed to investing in my immediate community and beyond as much as possible.
At first, I was a little saddened by the lack of opportunity, but luckily that only lasted five minutes. I switched and told myself not to wait but to create an opportunity. I decided right then that I would host the first "Arkansas Valley Leadership Summit" [our own version of the GLS with the men in my living unit]. What's more, I didn't want to wait and get bogged down in discussions about timing. So, I decided to host it in exactly two weeks with the leaders in my living unit (as opposed to the programs area). We had eight speakers give 15-minute talks over two nights to an audience of 20 leaders in the prison.
I am committed to investing in my immediate community and beyond as much as possible. My career is focused on developing both leaders and ideas that will free people to be their best. I want to run the Arkansas Valley Leadership Summit to build a community of leaders willing to share their hard-earned lessons in leadership with each other and do it in conjunction with The Global Leadership Summit to invest in our community.
Thank you so much for putting together The Global Leadership Summit! I could go on praising the Summit forever, so let me just say, again, thank you so much.
Justin, Colorado Department of Corrections
If you are interested in being a part of the GLS Prison Program in any capacity, whether as a facility host, organizational partner, tech support, volunteer or a financial supporter, go to GlobalLeadership,org/Prison to learn more!
We welcome and encourage comments on this site. There may be some instances where comments will need to be edited or removed, such as:
Comments deemed to be spam or solely promotional in nature
Comments not relevant to the topic
Comments containing profane, offensive, or abusive language
Anonymous comments
If you have any questions on the commenting policy, please let us know at heretoserve@globalleadership.org
Equip, encourage & inspire global leaders with a gift today
When you give to the Global Leadership Development Fund, your gift inspires and equips Christian leaders, facilitating transformation in some of the world's most challenging environments.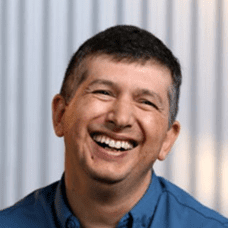 "Without your heart for giving, we could not have had the GLS in many countries like Bolivia, Ecuador, Cuba, Chile, Peru and others in the rest of Latin America."
Carlos Arroyo, South America