Published June 19, 2017
The Summit Adds Value to People No Matter Where They Are, Even in Homelessness (Part 2)
To some outsiders, the idea of hosting The Global Leadership Summit in a homeless shelter seemed like a waste of time. Some questioned the concept:
Could people who are homeless have influence? Could they impact their community?
Despite lingering doubts from outsiders, the staff at Haven for Hope in San Antonio, Texas knew they were kindred spirits with the mission of the GLS. To their core, they believe in adding value to people, recognizing the power in empowering people to grow, change, learn and make a difference—no matter where they are in life. (Read more about Haven for Hope in part 1)
The motto for the GLS is clear. EVERYONE has influence.
This means even a man or a woman experiencing homelessness has influence. They too can make an impact.
To the staff at Haven for Hope, the largest venture to transform homelessness in the US, bringing the GLS to the facility was a no-brainer. Having been to the GLS for several years, the staff was on board. It was only a matter of funds and connections to make it a reality.
Mike Sharrow, former pastor at Grace Point Church (a longtime GLS host site), and current CEO of The C12 Group, was just the guy to bring momentum to this idea. With a passion to leverage the GLS to connect leaders from church, business, non-profit and everything in between, while advancing the Kingdom of God and transforming his city of San Antonio, his response to the idea from an executive at Haven for Hope was natural.
"Why not?"
"All people are created in the image of God," Mike shares. "All people have influence and the capacity to lead where they are. I believed it would change lives at Haven, bring greater unity among those working and serving there, and also send a 'disruptive' message to the city."
Bringing the GLS to Haven for Hope was no easy venture. But epic endeavors are rarely easy.
"There were endless potholes and curve-balls leading up to the event," Mike explains. "But it was worth it! As business leaders in The C12 Group, we solve problems in business every day to help move a widget, make a buck and serve a customer.
"Why not solve problems to impact hundreds of people in our city who otherwise would never have access to this kind of encouragement and training?
"Social agencies have some of the most breathtaking missions in our world today. Often, shelters are the collaboration of numerous churches, non profits and city agencies working together on what can seem like an impossible mission. The leaders have monster visions and the staff are sold out for helping others. But typically, those organizations have little to no budget for things like leadership development.
What would happen if the leaders of these amazing institutions grew just 5% every year by experiencing the Summit?
"What would happen if the leaders of these amazing institutions grew just 5% every year by experiencing the Summit? And what if thousands of men and women were given a grander vision for what life could be like and tools for how they could begin to change the world right where they are, no matter their circumstance?"
The Global Leadership Network and The C12 group rallied together, raising thousands of dollars to sponsor the men and women at Haven for Hope to attend the first GLS in a homeless shelter. One business provided meals for both days. The staff and partners got involved. More than 300 members, staff and partners gathered together for the first time in the Haven of Hope facility for its first GLS.
The impact is changing lives.
"There is something powerful when everyone humbles themselves to learn together and be open to learning and becoming something better," Mike shares. "There was incredible dignity and equality demonstrated in that room."
Despite the positive energy in the room, there were still a few people who wondered about the merits of providing the GLS at Haven for Hope.
One person asked, "What do you think these people could ever get from this type of teaching? Isn't it a waste?"
Mike told him he believed one day he would discover how men and women from this room were making a difference in San Antonio.
The fact that I've been invited to attend this says people must think I'm capable of doing more in my life…
Still doubtful, he asked someone from the crowd what he was getting out of the Summit. The man said,"Well, I was really impacted by the talk about the lenses we see people with. The fact that I've been invited to attend this says people must think I'm capable of doing more in my life… and I'm wondering what that will be."
The man was humbled by this response, realizing the power of adding value to people, no matter where they are in life.
After attending the GLS, two of the residents felt led to become local pastors. As a result of how God used the Summit in their lives, they currently attend seminary full-time on scholarships.
What does it mean for you to embrace God's call on your life, and influence those around you and the community you live in?
At the GLS, we believe everyone has value. We believe everyone has capacity to influence positive change in our world. This is why we will continue to bring the GLS to EVERYone who wants to grow in their leadership, and expand Kingdom impact.
We welcome and encourage comments on this site. There may be some instances where comments will need to be edited or removed, such as:
Comments deemed to be spam or solely promotional in nature
Comments not relevant to the topic
Comments containing profane, offensive, or abusive language
Anonymous comments
If you have any questions on the commenting policy, please let us know at heretoserve@globalleadership.org
Equip, encourage & inspire global leaders with a gift today
When you give to the Global Leadership Development Fund, your gift inspires and equips Christian leaders, facilitating transformation in some of the world's most challenging environments.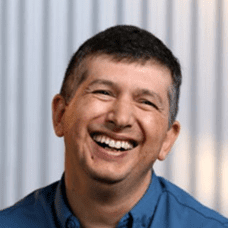 "Without your heart for giving, we could not have had the GLS in many countries like Bolivia, Ecuador, Cuba, Chile, Peru and others in the rest of Latin America."
Carlos Arroyo, South America