Published May 31, 2021
5 Reasons Parents & Guardians Attend The Global Leadership Summit
Focused on the belief that everyone has influence, The Global Leadership Summit (GLS) has been bringing people together to ignite transformation since the early 1990s. With rich leadership learning and inspiration attracting thousands of people year after year, the GLS has grown to reach hundreds of thousands of people in business, nonprofit work, healthcare, education and government, making the GLS unlike any other leadership conference in the world today.  
As a parent or guardian, you might have the greatest influence of all!
But sometimes we hear the disheartened words of a woman who says, "But I'm not a leader, I'm just a mom." And we're suddenly stirred, "But as a parent, you might have the greatest influence of all!"
Indeed, we believe everyone has influence, wherever they are. And this is true whether or not you have a title. Whether you lead a corporation, church, little league team, small group or a family—your leadership matters—and perhaps most especially if you take care of a family!
In fact, each year the Summit audience welcomes thousands of parents, grandparents, guardians, homemakers and caretakers to join us! Andy Stanley said it best, "Your greatest contribution to the Kingdom of God may not be something you do, but someone you raise." While what you do with a title may be important, leadership and influence go far beyond a title—everyone has the ability to influence positive change.
These are the top 5 reasons to attend The Global Leadership Summit as a parent, guardian, grandparent, caretaker or homemaker:
1. A diverse, world-class faculty with a wealth of leadership experience that can apply to families as much as it applies to business.
Did you know? Almost every one of the 2021 world-class leadership faculty are parents! Yes, not only can our faculty speak from their wealth of expertise from their latest research and work experiences, but most of our faculty can also speak from their experiences as parents themselves.
2. Opportunity to gain fresh perspective, new insights and alternative solutions to everyday obstacles.  
There's no other conference that brings together such a diverse faculty, while also convening such a diverse audience of curious, growth-minded men and women from around the world—this makes the GLS a great opportunity to invest in your own personal leadership growth, as well as the personal growth of your family. With perspectives brought to you from outside of your regular environment, you're able to discover new solutions to some of your everyday problems.
"God treasures people most. When He entrusts us with His treasure, we must do everything possible to love and serve them well. The Summit solidified the degree to which my husband and I have been called to a higher level of leadership—not only as individuals, but also as a couple, and as a family. We felt sparks of vision for the future and an excitement about the bigger-than-us things God has already called us to and may be stretching us toward in the future. We filled our arms with resources, devoured the messages and we're spending time together in prayer and planning professionally and personally as a result of what the Spirit spoke to us through this event." – Jessamy Johnson
3. The Summit is more than a conference about leadership principles, it also provides a dose of encouragement and inspiration to carry you through the year.  
Attracting an audience from every walk of life from Christians and non-Christians alike, the Summit focuses on curating a world-class faculty that delivers leadership principles that can be applied in almost any context with an important element of hope and encouragement that is often missing from strictly training-focused conferences. It creates a safe place to invite people from various faith walks, giving them space to learn from a wide range of perspectives.
"I realized even "just a mom" could attend and benefit from the experience. After all, I was a leader in my home, instilling growth, encouragement and life skills into my child. I too am a leader in that capacity! And I had never thought of it that way. So, I gladly attended my first Summit, and it shook me to my core. I have since made the Summit a priority, missing only one year. I am forever indebted to the Summit for its impact on my life, the doors it has opened and the person I continue to be molded into as a result of being a part of the Summit. This conference will rock your world, challenge you to face the status quo, and give you the tools to make a difference, at whatever capacity you lead. Don't let another year go by wondering if you should attend The Global Leadership Summit. LEAD WHERE YOU ARE today!" – Loree Baasch
4. The Summit provides the opportunity to network with other values-base, growth-minded men and women in your local community.  
The Summit creates an opportunity for leaders of all types, including parents, to come together with their community. And because this event attracts values-based, growth-minded men and women, the networking that occurs naturally turns into valuable relationships and encouraging connections, reminding parents they are not alone.
"To see a change in society, we need every man and woman to know they have an influence. We, as parents, need to see leadership in our children. We need to see leadership in others. Spouses need to see leadership in each other. When we see that everyone has influence, we will change; we will want to grow and be better whether in our personal life or in society." – Enaam Haddad
5. The cost-benefit for leadership development is extremely high.  
With a maximum ticket price of $209 per individual, the cost-benefit is extremely high. Compared to other leadership conferences available, the value you get from the GLS is often greater than other comparable conferences that cost upwards of thousands of dollars to attend.
"You absolutely cannot get the tools, resources, encouragement and wisdom you will get from the Summit for any better cost of time or money. It is worth every second and every penny and then some. Make time for it. Show up focused and ready to absorb. Whatever kind of a leader you are—parent, teacher, boss, manager, counselor, friend, neighbor—YOU influence others, and the sooner you accept that and take it seriously, the sooner you can be more effective, more powerful, more of a blessing to those around you. You'll be blessed by doing whatever it is you do well and seeing people impacted by your choices, words and behaviors." – Jessamy Johnson
Get your tickets to The Global Leadership Summit today! Get tickets >>
We welcome and encourage comments on this site. There may be some instances where comments will need to be edited or removed, such as:
Comments deemed to be spam or solely promotional in nature
Comments not relevant to the topic
Comments containing profane, offensive, or abusive language
Anonymous comments
If you have any questions on the commenting policy, please let us know at heretoserve@globalleadership.org
Equip, encourage & inspire global leaders with a gift today
When you give to the Global Leadership Development Fund, your gift inspires and equips Christian leaders, facilitating transformation in some of the world's most challenging environments.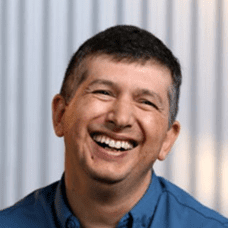 "Without your heart for giving, we could not have had the GLS in many countries like Bolivia, Ecuador, Cuba, Chile, Peru and others in the rest of Latin America."
Carlos Arroyo, South America