Published June 23, 2021
Open-Minded or Close-Minded? Your Posture Can Make or Break Your GLS Experience
For more than 25 years, The Global Leadership Summit (GLS) has convened curious, growth-minded, change driven men and women who strive to develop their leadership skills to lead positive change. What started as a small conference in Chicagoland, the GLS has grown to reach people in every industry, including business, government, nonprofit, healthcare, education, social services and even corrections.
Everybody is welcome!
Serving such an incredible community spanning across industry, faith, age, gender and geography requires an open mind and the diligent research of our team to choose the best faculty lineup to serve our audience where they are. (Check out the 2021 Faculty)
This means our faculty lineup is a diverse group of ministry leaders, social scientists, nonprofit leaders, business executives, designers, entrepreneurs, healthcare workers, educators, authors, military personnel, influencers and athletes…to name a few.
As our Content Development Team connects with our faculty throughout the year leading up to our annual event, they focus on drawing out the leadership expertise our faculty brings to the table, no matter what industry or background they may be coming from.
With fresh, actionable and inspiring leadership insights, our faculty focuses on equipping and encouraging our audience to lead the change they long to see, wherever they live and work. This makes The Global Leadership Summit one of the most unique, most practical, most diverse and most hope-filled leadership conferences of its kind.
With an open mind and a posture of humility, you can enhance your experience.
At the Global Leadership Network, we value being open to hearing from individuals who have extensive experience in areas of their lives we can learn from. We know we can learn from anyone, even those we may not be in complete agreement with.
It is the humility, curiosity and desire to learn from anyone that makes the Summit audience unique.
We also believe the willingness of our faculty to share their expertise enhances the learning process and stretches our audience in ways that otherwise may not happen. Over the years, we have found that such interactions have strengthened our convictions, established new relationships, and at the same time, provided meaningful and memorable learning moments. As a leadership conference drawing people from various backgrounds, we believe a business leader can learn new leadership skills from a pastor, and a pastor can learn new leadership skills from a healthcare worker, and so on down the line. It is the humility, curiosity and desire to learn from anyone that makes the Summit audience unique.
We also know that inherent in opening ourselves to the input these leaders can bring, is the risk they might say something which does not necessarily align with the beliefs and values of our audience. In those instances, we are confident our audience has the maturity, wisdom and discernment to be open to the learning moments that might take them out of their comfort zone to experience a new perspective or discover something valuable they can apply in their context they hadn't thought of before.
As you come open and ready to learn, we hope your time at this year's Global Leadership Summit proves valuable to you on your leadership journey!
If you don't yet have your tickets, now is the time to go to GlobalLeadership.org/Summit to secure your seat at a local host site venue or online. Get tickets >>
We welcome and encourage comments on this site. There may be some instances where comments will need to be edited or removed, such as:
Comments deemed to be spam or solely promotional in nature
Comments not relevant to the topic
Comments containing profane, offensive, or abusive language
Anonymous comments
If you have any questions on the commenting policy, please let us know at heretoserve@globalleadership.org
Equip, encourage & inspire global leaders with a gift today
When you give to the Global Leadership Development Fund, your gift inspires and equips Christian leaders, facilitating transformation in some of the world's most challenging environments.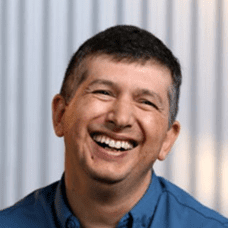 "Without your heart for giving, we could not have had the GLS in many countries like Bolivia, Ecuador, Cuba, Chile, Peru and others in the rest of Latin America."
Carlos Arroyo, South America