Published June 15, 2020
5 Reasons Not to Miss The Global Leadership Summit 2020
Wherever you are, you have influence. All around you, there are spaces where your leadership is desperately needed, especially now. Only you can bring your strengths, skills, ideas and passions into the world. How are you using your influence?
The Global Leadership Summit on Thursday and Friday, August 6-7, 2020 is your opportunity to gain access to a wealth of leadership insights from 15+ world-class faculty ready to equip and inspire you—no matter where you have influence.
Join us for the GLS Online Experience or at one of 500+ host sites where in-person gatherings are still an option. Come sharpen your leadership skills, strengthen your relationships, maximize your resiliency during change, challenge the status quo, enhance your emotional intelligence and ignite transformation in your community!
Top 5 Reasons Not to Miss #GLS20:
1. 15+ world-class, diverse faculty
This year's faculty is eagerly ready to share their unique perspectives to support and equip you for today's current reality. Just some of the world-class faculty includes:
Craig Groeschel, Senior Pastor of Life.Church
Beth Comstock, Director at Nike
Nona Jones, Head of Faith-Based Partnerships at Facebook
Marcus Buckingham, New York Times Best-Selling Author;  Founder of the Strengths Revolution; Head of ADPRI Research Institute
Paula Faris, Senior National Correspondent at ABC News
2. Leadership insights, ideas, concepts and principles you can immediately apply
Our faculty's areas of expertise range from leading through crisis, unlocking the strengths of your team, multiplying your time, accelerating innovation, staying relevant, communicating for success, overcoming power dynamics and predicting performance, just to name a few!
Some of the topics they will dive into include:
Breaking free from the lies we believe about work
Becoming more agile and inventive
Identifying five permissions to multiply your time
Overcoming fear and problematic power dynamics in teams
Leveraging science-based research to increase connection opportunities
3. A statistically-proven, positive return on investment when you apply what you learn
Providing access to world-class leadership development resources and training is proving to have a positive impact around the world. Growth-minded, curious people like you have been attending The Global Leadership Summit for the last 25 years and have experienced the positive outcome on their relationships, organizations, churches, businesses and communities. Listed below are just some of the outcomes that have been reported* by past attendees:
73% of attendees applied new team-building skills learned at GLS and "Agree" or "Strongly Agree" that those skills have improved the quality of their work.
82% of attendees "Agree" or "Strongly Agree" that they found "a greater sense of significance and satisfaction from a new leadership position" GLS inspired them to pursue.
60% cited concrete ways they served the poor (35%), helped youth (24%), educated others (23%), comforted the hurting (18%), and fought injustice (12%).
25% of attendees cite specific ways "GLS inspired [me] to share the Gospel in the past 2 years" with an average of 42% first-time commitments per participant.
68% of those who said the GLS affected their vision "Agree" or "Strongly Agree" that their organization is more effective because a clearer vision showed them which non-essential activities to eliminate and which important activities to focus on.
4. The most accessible and affordable leadership training event online or at a location near you
With tickets starting as low** as $129 to attend the GLS Online Experience or hosting sites around the United States, you get both ease of access to a faculty of experts and influencers near you, as well as affordability for what normally might cost thousands at another leadership conference.
5. Encouragement and inspiration to forge ahead on your leadership journey in a complex world
Every day, our team hears stories from people like you, all around the world, who've been inspired and encouraged by something they learned or someone they met during The Global Leadership Summit.
They tell us this is more than just a leadership conference—it is something much more—it is a catalyst for change. Guests not only leave equipped with new skills and fresh ideas, but those who arrive discouraged, often leave with a renewed sense of purpose and encouragement to forge ahead on their leadership journey in a complex world.
As I've developed my leadership skills through the Summit, I've become more acutely aware of challenges in our community. That's why I'm passionate about community development. We all have a responsibility to lift up both our neighbors and strangers and lend a helping hand whenever possible. As a result of the Summit, our citywide movement has gained momentum. Without a doubt, Fort Wayne, Indiana is getting better. –Chuck Surack, CEO, Sweetwater Sound
I've never been a part of a conference that's stronger than the GLS. This is the best conference I've ever been a part of for pure leadership development. Developing a leadership culture is one of the hardest things to do, and the GLS is a catalyst to making that happen at our church. It's our infusion every year that helps us enter into the brokenness in our community. –Dan Steffen, Pastor, Pure Heart Church
One thing that has me in awe about The Global Leadership Summit is the outlook you carry—that including us prisoners in your mission is of great importance. Labeled as outcasts and menaces to society, you show by your efforts in making the events available to us that you see us as Christ sees us—valuable. –Alejandro, GLS attendee at Heritage Trails Correctional Facility, U.S.A
It's easy to go to a leadership conference and write yourself off saying, I don't fit in because I'm not leading an organization, or I'm only 13. But because I heard that message over and over—everyone has influence—I saw my life in a different way. I realized my life isn't just about me. If everyone really has influence, leadership development matters, even as a 13-year-old. –Hannah Gronowski, CEO, Generation Distinct
The GLS is critical. In many areas of the world there are multiple avenues people can pursue to fine-tune their leadership ability. But this is not true in countries like mine. Having done this for about nine years, the GLS has now become a household word. And the result is transformation. Inevitably it's creating a better country. It's creating better opportunities for young people. And because we are global, the ripple effect is creating a better world. –Dr. Katurah Cooper, GLS Liberia
You won't want to miss what we have in store for you! Get your tickets and join us at The Global Leadership Summit in 2020—we can't wait to see you there!

*Research data provided by the third-party firm, Excellence in Giving. Statistics are based on 2017 research on The Global Leadership Summit experiences of 2,268 repeat participants in the United States.
**Pricing is as low as $129 per attendee for purchases of 2+ tickets and $149 per individual attendee by June 30, 2020. Regular pricing is $189 per individual ticket and $169 for purchases of 2+ tickets. Not valid for South Barrington's Main Auditorium. All ticket prices are per-person, in USD, for registration to attend at a U.S. site. Guests from other countries please contact your GLN or GLS office. Additional discounts are available for full-time students, faculty and members of the military. Additionally, teachers, nurses and other qualified guests may be eligible for continuing education credit. Please call 800-570-9812 to learn more about CE credit.
We welcome and encourage comments on this site. There may be some instances where comments will need to be edited or removed, such as:
Comments deemed to be spam or solely promotional in nature
Comments not relevant to the topic
Comments containing profane, offensive, or abusive language
Anonymous comments
If you have any questions on the commenting policy, please let us know at heretoserve@globalleadership.org
Equip, encourage & inspire global leaders with a gift today
When you give to the Global Leadership Development Fund, your gift inspires and equips Christian leaders, facilitating transformation in some of the world's most challenging environments.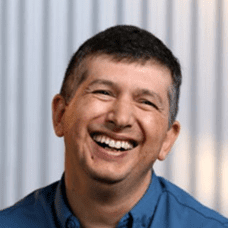 "Without your heart for giving, we could not have had the GLS in many countries like Bolivia, Ecuador, Cuba, Chile, Peru and others in the rest of Latin America."
Carlos Arroyo, South America